Whose Psychometric Data Is it? To Share or not to Share
Posted on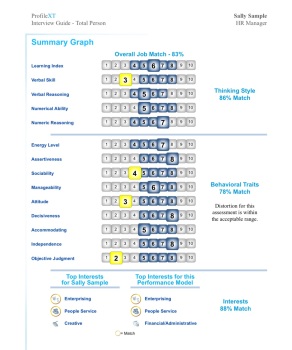 Practitioners (BPS Test Users) worldwide have long been providing psychometric testing services for clients. Data construed from these tests are useful for helping clients to identify the 'best-suited' candidates for specific job roles, and they can be used to develop existing employees potential too. However, there are several implications for BPS Test Users when handling psychometric data.
While psychometric test data is considered invaluable for its use in explotting and measuring personality, cognitive ability, and occupational interests, there are several consequences associated with using this data. Therefore, the task of working as a independent psychometrician/BPS Test User involves more than interpreting and communicating psychometric scores - it includes acting as a 'gatekeeper' to test-taker's sensitive and personal data. in fact psychometrics are considered 'special category data' as it provides information on 'health', which is not only prohibited by GDPR, unexpectedly it can force practitioners into difficult conversations with clients.
In this article, chartered psychologist, scientist, and coach, Dr Michelle Hunter-Hill discusses the important issue of psychometric data ownership, in the context of 'tripartite arrangements'. A tripartite arrangement is where an employer commissions and pays for, say, a psychometric testing service (BPS, 2022), which the client may expect to receive full access to the data/output. Dr Hunter-Hill considers client/employers and practitioners perceptions around who psychometric data belongs to, and who, considering ethics and data protection law, it actually belongs to. This knowledge is crucial as it can influence decisions on the usage of that data.
Independent practitioners/BPS Test Users working in a 'tripartite' arrangement may not be adequately prepared to face the challenges associated with it. While the idea of being contracted by a high profile client to undertake psychometric testing, affording a great opportunity to use BPS Test User skills is exciting, there is another side to it. Leading a psychometric testing project can seem like a dream - until client expectations on data ownership get in the way. Considering that psychometric testing data is used by to inform selection and development decisions, measures to safeguard such 'special category' data to ensure that only authorised personnel have access to it, is a fundamental necessity. Often, this conflicts with some clients beliefs that if they buy into psychometric testing for their organisations, they deserve the right to access the data.
While contractors who work as part of a larger team may not face such challenges, independent contractors/BPS Test Users who play the dual role of project leader, are likely to encounter situations like this. This can present a range of practical and professional challenge for them. For example, it could result in one having to question or challenge an 'access-based' information request from a client on the premise of their expectation for contractors/BPS Test Users to give them what they want, data.
We cannot assume that all employers/clients understand GDPR and take the business of ethics and consent as serious as psychological professions do. Arguably, the purpose and role of informed consent and privacy varies according to profession/organisation, respectively. An important part of the consulting role, is to discuss and raise their awareness of these facts, including a developed expectation that ones professional practice is governed by professional bodies such as the British Psychological Society (BPS).
The relationship between contractor/BPS Test User and the commissioning client can be a tricky one, particuarly if important conversations on how manage expectations are not had. As mentioned, some clients assume that because they have purchased psychometric testing services, they own the outputs. Besides this, some struggle to accept that they are not 'authorised personnel' either. This means that they can not access the data in the absent of the test taker giving their informed consent. However, test takers (1st party), are permitted to access this data.
In Practice…
Imagine that your client is a large, reputable, multi-national organisation. They have presented a large scale project involving psychometric testing for you to take on. They trust that through working with you, they will be able to gain a deeper understanding of their employers/potential test takers, to be able to make decision on whether they should be promoted or not. Your client request that you send them the psychometric profiles of the candidates. Considering that the client has paid you for your testing services, you may think it is okay to simply supply them with this information. Besides this, the test takers are current employees of the client organisation. Therefore, in some way it may make sense to you why the HR department feel entitled to the data.
After consideration, you remember that psychometric profile data does not belong to anybody but the the test taker. Despite the client paying for this service, the data construed from the profiles is personal (GDPR) and includes information about the health status of test takers. In view of this, test takers will need to consent to this information being shared with others, including their employees.
Besides the above, if there is no trained psychometrician or BPS Test User working in the client's organisation, it would be inappropriate to send such complex and sensitive data to an unqualified individual to interpret and make sense of. Due to the social sensitive nature of psychometric data, one has to be careful about how its contents are shared, and with whom. Many practitioners, particularly those who are new to testing, may not realise that psychometric data belongs to the test taker. Therefore, data of this nature should not be shared in the absence of obtaining the test takers consent.
Points to remember:
Psychometric data are classified as health data, and are therefore subject to additional safeguarding from UK GDPR. Health data is regarded as special category data. Processing such data is prohibited in some cases.

Clients should be informed of what will be expected of them should they decide to engage/participate and work with you.

Tripartite arrangement should be clearly defined. Data belongs to test users therefore their consent must always be sought

Clients should play an active part in the psychometric testing process

Psychologists should be aware that their own desire to help a clients may bias how the information is presented.

Psychologists should be aware of their perceived power, status, and authority. Clients may behave in a social desirable way to avoid the discomfort of being seen not to understand the psychologist's stance.

There should be an effective communication channel between the psychologist and client so they can engage in joint decision-making.

Clients should be reminded of the right to withdraw, and asks questions at any point.

In all cases, ethical practice should apply when a decision has been made to gain informed consent.
Written by Dr Michelle Hunter-Hill, a chartered psychologist, scientist, and coach who designs and delivers people assessment and development services to varying local and international clients. Dr Hunter-Hill also leads The Psychometrics Cafe', which is a community of psychometricians who meet on a monthly basis online to discuss practical challenges associated with administering, scoring, interpreting, and communicating psychometric tests.