About the Issues@Work Clinic
The modern day workplace is incredibly different from what it was many years ago. Today, whilst our business and occupational settings can be a source of fullfilment and joy, it can be a source of stress and burnout also. The stark reality is that employees are being bullied at work, trolled, made to overwork, smeared, and being teated unfairly because of their individual differences. This couple with the fact that employee voices are disproportionately unheard in today's society means that many are left struggling with a range of problematic symptoms , which they do not necessarily understand.
The solutions available to them have mainly stemmed from internal HR service, some of which are incredibly inclusive and well-serviced. However, not all organisations have a HR function, and even when they do, some employees fear that the service is designed to benefit the organisation. Whist this controversial perspective is arguable, employees tell us that they prefer an independent and more personalised support system when dealing with issues at work. As a team of qualified psychologists we belive in the role and importance of individual differences to identify the root cause of a problem. This understanding of individual differences and cultural variation is at the core of our values, and it shapes our approach to treatment. Working with us will enable you to acheive the path to resolving your issues at work.
The Issues@Work Clinic offers various services. Firstly, it offers an opportunity for you to meet and discuss your issue with one of our Psycholologist, and/or you can become a part of our community of employees who are keen to explore strategies to resolve their issues at work. Every week we discuss a work-related issue, and we provide educational and practice-based resources to support those in need of help.
Are you struggling with any of the issues below:
work-related anxiety
imposter syndrome
trolling and digital harrassment
resistance to change
confidence and self-esteem
procrastination and underperformance
work-related stress
mental workload
sabotage and bullying in the workplace
academic stress
career change
conflict and personality clashes
unconscious bias
wrong-doing and unethical behaviours
Don't suffer in silence! The Issues@Work Clinic runs every Monday between 12:30 - 13:15 pm . However, individual appointments are available throughout the week. Please click the button to book your appointment.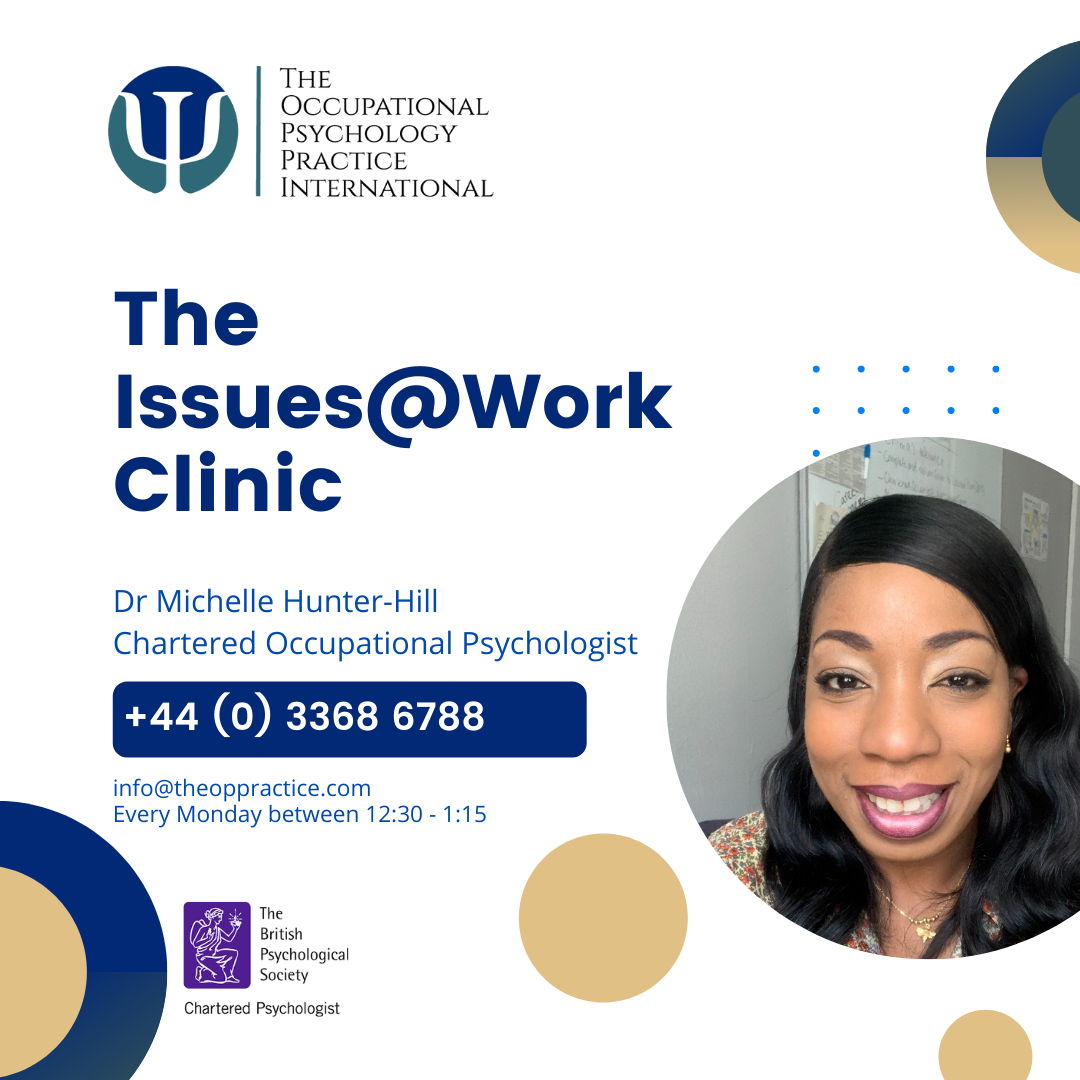 Attending you first appointment at the Issues@Work Clinic
Most people feel uncomfortable or anxious before coming along to their first appointment at the Issues@Work Clinic, which is very normal. Some of the issues we experience at work can be upsetting, and we spend a lot of time beforehand trying to ignore that and convincing ourselves that they d not exist or that they will disappear in due time. This is not always the case, and if we do get to the point of accepting that seeing somebody to discuss our matters with is a good idea, it is likely that we may feel nervous meeting new people and going to new places. Likewise when first meeting your psychologist you may feel a little uneasy, as is normal when preparing to discuss concerns that have been bothering you.
In the first session, we will conduct a thorough assessment of your current life situation, your difficulties, any related factors and history. This is important to enable us to help you in the most effective and efficient way. You will have the opportunity to ask any questions you may have and, if time permits, we will also generate a plan for your psychological treatment.